The easiest way to use a PC in an arcade cabinet!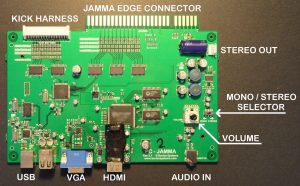 I designed PC-JAMMA to easily convert any arcade cabinet to run an emulator and still have the flexibility to swap game boards so I could still use my library of JAMMA games.
This single board converter uses all existing cabinet components and is JAMMA compatible. It converts the PC's video signal to 15kHz RGB suitable for any standard arcade machine monitor. It connects cabinet controls as USB joysticks and as a USB keyboard. It amplifies and outputs the PC Audio to the JAMMA edge connector or stereo out plug.
How to use
Before we begin, I assume your cabinet is fully working!
Locate your old game board.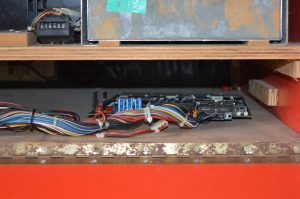 Unplug from the JAMMA harness and remove it from your cabinet.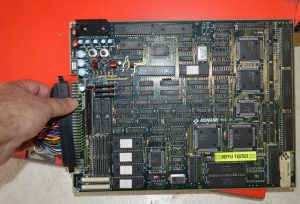 Connect your PC's video, audio, and USB cables to PC-JAMMA.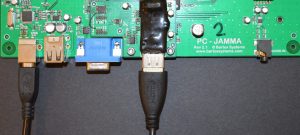 Plug PC-JAMMA into your cabinets JAMMA Harness.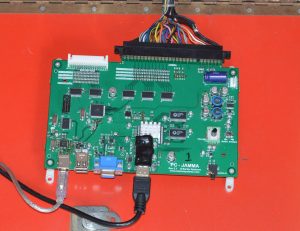 Put PC-JAMMA back where the old game board was located.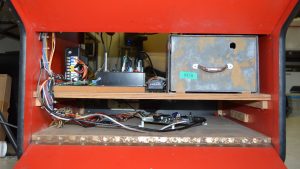 Turn on your cabinet and computer.
On the first run, Windows will need to download and install some drivers.
Once complete, Run your choice of emulator and start playing.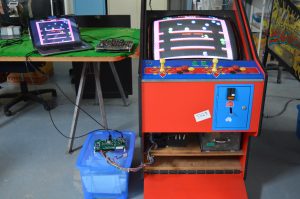 To run a standard JAMMA board instead of emulation is now as easy as swapping game boards.
Close up of the screen image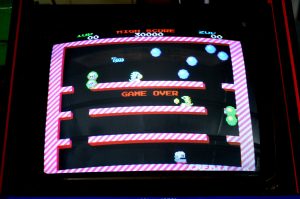 Specifications
PC-JAMMA Supports 2 Player, 6 Button, and 4 Player, 4 Button cabinets using a CPS2 compatible Kick Harness. Each player's controls appear as a separate USB game controller. By default Credit and Start for each player are set to MAME's default keyboard keys. This option can be changed to buttons or both keys and buttons using the PC-JAMMA configuration utility.
Includes a 15W Stereo Amplifier with Stereo / Mono selector
Supports VGA & HDMI inputs including audio over HDMI (in PCM mode).
Features a Force Analog Audio mode that accommodates older HDMI devices that do not support audio over HDMI. This mode sources audio directly from the 3.5mm audio socket and is enabled using the configuration software.
JAMMA RGB Output with composite sync at 15kHz. (3-volt amplitude)
Supported Video input resolutions:
◾640 x 480
◾800 x 600
◾1024 x 768
◾720 x 400 (DOS Text Mode)
Firmware updatable using update software.
Fully Configurable using the Configuration utility.
Includes a terminal interface for easy integration into third-party software.
More information can be found here